Predator Mk2
---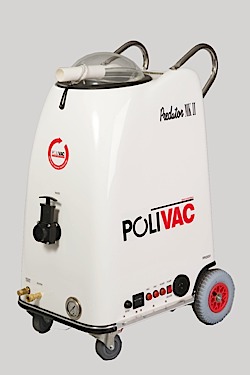 View Larger Image
Print this Page
GET A PRICE
Make:

Polivac

Power:

Mains 240volt/2200watt

Performance/Working Width:

350psi pump

Capacity (Litres):

50

Heavy Duty Commercial Use
Description

Downloads
Carpet Extractor -  Mk II

 

Portable, fully-featured carpet extraction machines.    
For small or large scale carpet cleaning and flood recovery.    
All-Australian designed and built. 
MKII    -350psi. (Normal operating pressure) optional extra - Auto fill/auto empty.
2 - 1100 watt, 3 stage, suspension-mounted bypass vac. motors.  
Pump - 1500psi 0.56kw (0.75hp) pump motor      
50 litre (11gals) solution and recovery tanks
Hour meter 0-9999 scale.    
Heater - thermostatically controlled heater element.
Pressure adjustment - combined external controller/air bleed valve.
Pressure gauge - 16000kpa liquid filled.
Switches - push button illuminating rockers.
Electric overload protection.
Float cutout with high recovery tank.
15 metre, heavy duty, rubber, flexible, safety lead.
15 metre hose.
Body - fibreglass with aluminum frame.
Wheels - 2 non-marking lockable castors and 2 pneumatic tyres.   
Standard inclusions:


30 cm (12 inch) stainless steel wand.
7.5 metres (295.3 inch) solutions hose.
7.5 metres (295.3 inch) vacuum hose.    

Parts available all over Australia
120 Distributors.    
Warranty - 1 year on motor and parts. 10 years on body.